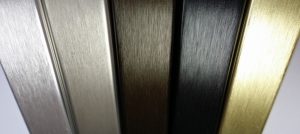 Linished/Brushed Bronze finish gaining notoriety
Our Simulated Stainless Steel (SSS) finish, over the past couple of years has become more and more popular and much sought after.  This finish involves the aluminium being brightened as well as having a small hint of bronze electrolytic tin process applied to it which gives it the true "stainless steel" effect.  This brushing of the aluminium pre-treats the metal for the brightening process and the hint of bronze gives it the steel appearance.
This finish has particularly gained a lot of interest from partitioning companies, shower manufacturers and various trim and shop fitting companies.  This specialised finish is very prestigious and allows a completely new way of providing a stainless steel look at a much more affordable price, and of course it is much easier to fit and work with with regards to cutting and shaping.
If you would like to see what our "SSS" finish would look like on your extrusions, send us a sample and we will process it to give you an exact idea of how it will look like on your applications.  For further details, questions or free sample swatches please contact us on 020 8573 0184.