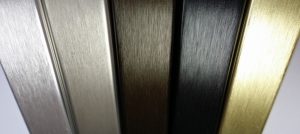 Owen Coyle Anodising Ltd, as a responsible member of the community recognises that Environmental Management must equal the highest of its' company priorities and will ensure environmental requirements form an integral part of its' business strategy.
Therefore, Owen Coyle Anodising Ltd are committed to developing policies, programmes and practices for conducting its' operations in an environmentally sound manner and are committed to conducting its' business activities in line with sector best practice and recognised environmental management tools.
By a programme of continuous improvement, we will prevent pollution by:
Implementing and developing its' Environmental Management System
Where practicable, rendering harmless any releases which may lead to Environmental pollution
Minimising the consumption of raw materials and ensuring that any waste generated is disposed of with minimum impact on the environment
Maximising energy efficiency and promoting the wise use of energy
Educating, training and motivating employees to conduct their activities in an environmentally responsive manner
This policy will be reviewed by the Management regularly and any changes implemented will be communicated to all of the staff within Owen Coyle Anodising Ltd.
Graeme Longman
Managing Director
1st January 2021