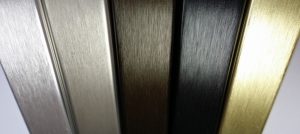 Below is an overview of the services and solutions Owen Coyle Anodising Ltd provides. We aim to provide the most effective and qualitative service that has made us a prominent anodiser within the aluminium industry.
We offer:
In-House polishing facilities. Maximum length 4000mm
Chemically Brightening. Maximum length 4000mm
A maximum length of 6300mm for most etched finishes
Electrolytic Duracolor* Bronze and Black
Full facilities for stripping (the stripping of anodised material only)
Excellent quality and finish
Keen and competitive prices
In-House cutting facilities
Excellent customer service
* Duracolor is a trade name of Owen Coyle Anodising Ltd.