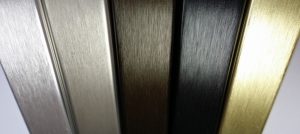 The final appearance of anodised material depends on the anodising process itself, on the type of pre-treatment applied, as well as the choice of alloy and the condition of the metal. The selection of pre-treatment and the care with which it is carried out are important quality factors. Owen Coyle Anodising Ltd offers a range of finishes and prides itself on its' meticulous attention to quality control at all stages of the process.
Chemical Finishes
This finish is applied after the mechanical treatment and before anodising:
Etched – This matt (satin) finish is produced by the immersion in a hot alkaline solution. It should be noted that deep die lines and scratches cannot be removed by this process. This treatment increases the durability of the aluminium and the thicker the film thickness the better, especially for external use.
Chemically Brightened – A bright, spectacular finish usually applied to pre-polished material. It is particularly suitable for bright trim and reflectors. In a natural finish it can appear very similar to chrome, and in the dyed gold, a similar finish to polished brass. This is achieved by immersion in a concentrated acid solution. In order to achieve a bright, reflective finish – the following points should be remembered:
The choice of alloy is vital. For extrusions, 6063 or 6463 are recommended and for sheet alloy, J57S or J57UP is preferable.
Always use mill finish and not stripped material.
Film thickness greater than AA10 will seriously dull the finish.